see discounts live
Our design tool is integrated with our discount structure, as you add your products watch the price go down!
RUSH OPTIONS
We offer a same day rush service for all our Brisbane customers and a 1-3 business day service to Australia. We also offer Express tees in AS Colour Staple and Mali that are shipped in 48hours at no extra cost. Call us now!
NO MINIMUMS
One for everyone! By this we literally mean one, there are no minimums or setup fees and a garment style to suit everyone.
high quality
The Tshirt Mill offers high quality custom apparel printing without burning a hole in your wallet.
thousands

of customers trust the tshirt mill to print their brand

Here are just a few that we have recently worked with.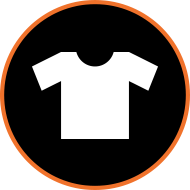 Tshirt Printing
When it comes to t-shirt printing cred, the Tshirt Mill has it all.
We're passionate, innovative, and proudly geeky (meaning we totally get your references to obscure sci-fi shows). We know that you want your product to reflect the unique you. With our extensive range of shirt styles, sizes, materials and colours for tshirt printing, we have an option for every guy, girl and dog.
Personalised JUST FOR YOU!
With our free design tool, you can easily add text, clip art (yes, clip art) or upload your own images, all with a few clicks of your mouse, trackpad, touch screen or laser finger. Want to show off your love for space and felines? Print a shirt and pay homage to your high flying furry friends (we're thinking cat astronaut in a rocket circling a massive nebula). Obsessed with Star Wars? We can help you embrace your inner Jedi, printing you a tee so full of force that even Darth Vader will be quaking in his boots. Is Walter White your spirit animal? One of our printed tshirts will help you show everyone just how badass you are. Let's cook.
High Quality Prints
As industry leaders, we don't mess around with inferior products. We only use superior brands like AS Color and American Apparel for t-shirt printing. We use DTG (direct to garment) printing and screen printing to yield the best possible results for colour, durability and high-res detail.
Gold star for being green
The Tshirt Mill are proactive about ensuring our environmental footprint is small and everything we do for our customers is ethical. All our suppliers are Oeko-Tex Standard 100 certified. 'Oeko-Tex whaaat? It just means that all our clothing is free of substances that might harm people or the environment.
We practice strict waste management throughout the printing process and strive to increase productivity while reducing our use of energy and water. Yay us, amiright?
Order Today!
Take advantage of the Tshirt Mill's design a shirt tool and order today! We have great discounts when you order multiple shirts, including 10% off when you order two or more, all the way up to 40% when you order 100 or more. To check out your options for tshirt printing, simply click a shirt to customise and get started!
For more info on our bulk printing deals, you can request a quote.