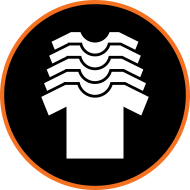 the more, the merrier (& cheapier)
buy bulk & save $$$
Got a bulk order? Awesome. We eat bulk tshirt orders for breakfast. No matter how big your order, we'll screen print it and we'll do it fast! And if you need a little help getting it all together, from design to delivery, we've got your back – just holler.
The perks of bulk tshirt printing with us*:
• Images appear sharp and pop on your garment

• More cost effective for large print runs
• Print up to 8 colours
• Excellent washability
• Eco friendly inks
• Ability to print on a variety of different materials and products

*Please note: The minimum quantity for bulk printing is 20 units.
If that compelling list of bullet points tickled your fancy and you'd like to know more about our bulk tshirt printing or receive a competitive quote, then you've got a few options. Fill out the form below, call us on 1300 729 491 or email us at sales@thetshirtmill.com.au and we'll be in touch, lickety split!
Request A Quote
(*) required field