Onsite Printing
Looking to make that next promotion? Try pitching your boss this idea and you're a shoe in!*
We provide a unique apparel and promotional product customization experience for events of all types. Whether your aim is to make money, or simply get your name out there onsite printing is an excellent solution for your business.
What is it they say, 'help me, help you.' Let The Tshirt Mill take all of the stress, hassle and guesswork out of your event apparel and promotional products by enlisting us to do it all for you, at your event!
This gives you more time to focus on the important stuff like the perfect themes and getting that band you saw at your successful best friends successful event to play at your event.
Take your event to the next level by calling us today and then sit back, relax and watch the dollars roll in from your sales without even lifting a finger. Ok well we might need you to sign something first, but then we'll poor you a 'Cuppa Joe' and you'll get that 'I just popped a Zanex' feeling.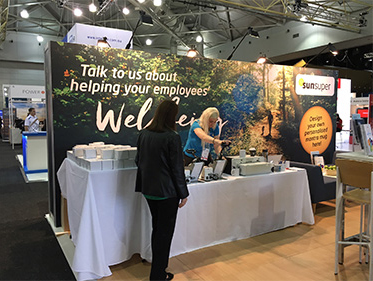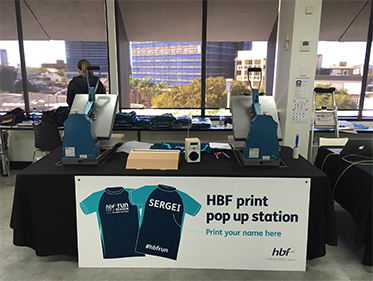 Don't feel like reading all that jargon above today? We'll break it down for you:
We bring the stock, and the fun
Print orders onsite as ordered by your guests
Choose from a range of garments, colours and other products
Customization of products on the day!
No left over stock (#winning)
No guesswork
No Stress
Corporate Events, sporting events, all the other kinds of events
Friendly Staff
Easy Fundraising
Offer your event a point of difference that peeps will talk about
The 1,2,3 of it …
Call us (duh)
You will be assigned a sales agent who will walk you through the process step by step. We believe that customer experience is key so your Sales agent (let's call her Betty) will be with you from the day you call, right up until the day of your event. Betty will assist on the day with the operation of your booth and act as your onsite contact. You and Betty will end up being besties.
Betty will work with you on the details of your event and assist with selecting the most suitable products, colour ranges and customization options
We arrive on-site and setup the booth and get printing!
What can we customize for you?
Tshirts, Hoodies, Singlets and many other garments
Mugs
Phone cases
Beer steins
Caps
Mouse Pads
Lot's of other products that would take up too much room to list…
just ask us!
*The Tshirt Mill does not actually guarantee promotions. We can guarantee however that your boss will be extremely impressed with the awesomeness of your idea and well, we feel like that should result in at least a high five followed by a little cash money.