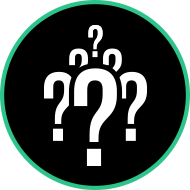 You've got questions. We've got answers.
It's a match made in question heaven.
Contact
How do I contact customer support? Easy. Via telepathy. But if you're not skilled in the fine art of 'thought reading', that's cool, just call or email us. We're around Monday to Friday, for all your tee queries. Before contacting us though, maybe have a little looksee over our FAQs to see if your question has already been answered.
Contact Us Page If you've scoured our FAQ page (lucky you!) and you still haven't found an answer, then just click the 'contact us' tab at the top of the website.
Fill in your name, email, the subject and a message, and a carrier pigeon will be dispatched directly to the tShirt Mill team, with all your details. We call it 'pmail'.
Email To contact us directly, email sales@thetshirtmill.com.au. We'll aim to get back to you as quickly as possible, generally within 24 to 48 hours. Unless of course, there's a new season of House of Cards/Game of Thrones/Girls and then we'll be binge watching, and all bets are off. We're joking, we don't really watch Game of Thrones.
If you don't hear back from us within the 48 hours, check your junk mail folder to make sure our emails aren't being redirected.
Facebook This might seem like a cheap ploy to get you to like our Facebook page but the thing is, once you've liked us, you've actually got a direct line to us via the 'message' function on our page.
And oh look, here's a handy link we prepared earlier that will take you straight to our Facebook page. Fancy that!
https://www.facebook.com/thetshirtmill
Ordering and Postage
How long will it take between ordering my shirt and receiving it? Excitable little thing aren't you? Well, there are a couple of options, depending on what you choose at the payment stage of your order. If you need your tee the next day or a certain date and want to ensure it will arrive by that date, simply email us at sales@thetshirtmill.com.au or call us on 1300 729 491 with the details of your order.
Our flat rate postage option will generally only take 7-10 business days from the day you place your order. Please allow extra time if you live in a rural area (Goondiwindi, I'm looking at you).
Now, because we offer such a wide array of products, we often need to order in from a specific supplier. Sometimes, that can add extra time to the process so occasionally there are hold ups beyond our control and if that happens, we promise to let you know, otherwise you can give us a Chinese burn.
Do I have to pay postage for each item I buy? Hell no! That would be mean. If you don't need your order in a hurry, then we offer a flat rate of $8 for postage…no matter how many tees you buy!
How will I know that my order has been sent? Oh you'll know, because at the exact moment it's shipped, you'll get a little shock of excitement in your guts. That's just your body preparing for the incoming awesomeness. And also, your order will be listed as 'processing' until the day we ship it. Once we've shipped it, then you'll receive an email.
Can I pick my order up? Of course! If you need your order ASAP and live in the Brisbane area, you're more than welcome to come down to our factory to pick it up. Our address is 99 Jane St, West End. If doing so, then simply select "Pick Up" on check out. Feel free to bring baked goods too. And coffee. And Skittles.
Washing Instructions and Lifespan Bit of a washing nerd, huh? That's cool. We get it. You're precisely the reason we've put together this handy washing guide.
Most of our garments are made of 100% preshrunk cotton. Follow these guidelines to get the most out of your tee:
Cold gentle wash inside out

Do not tumble dry (we like to hang ours straight on a coat hanger…no ironing necessary)

If you must iron (nerd!), iron inside out
Do not dry in direct sunlight
If you follow these general rules your garment will last for up to 30 washes.
Payment and Security
Do you offer discounts on bulk orders? We thought you'd never ask! We sure do! In fact, the more shirts you order, the bigger the discount. You can even mix and match sizes, colours and styles without it affecting your price. For more information or a quote, email us at sales@thetshirtmill.com.au.
How can I be sure that it is safe to pay on your online store? This question is answered in detail in our 'Privacy Policy.' If you still don't feel comfortable providing your credit card details, then we also offer PayPal and Bank Transfer.
Design Submission
How do I upload my own drawings? We can print anything, whether it be a photograph, your drawings or sketches, album covers…anything! Simply scan the hard copy of what you want printed ensuring you select '600dpi' in your scanner settings. To upload this file to the design template you will need to convert it to a jpg or png. Say whaaat? If you're not sure what these formats are, we can do this for you, simply email us your scan and we will send it back in the right file type.
How can I tell that my artwork is centered properly? You needn't worry your pretty little head about that – getting your artwork in the right spot is what we're trained to do. If you're at all worried about where you've positioned your artwork during your submission, just give us a quick call. We'll always call you if we have any suggestions or questions about placement and quality of your artwork, or you know, just to chat about stuff.
Printing
What Is Digital Printing? Digital printing is an electronic printing process that is very similar to an ink jet printer. Once cured, the digital print is durable but it requires more care in laundry and is not quite as durable as screen printing. Digital printing is much easier to process and is suited for short runs and images of high detail and multiple colors. The process is only available on 100% cotton fabric.
What is Screen Printing? Screen printing is a stencil process that applies liquid ink to the garment, one color at a time. When cured, the ink is extremely durable and washes well. Screen printing has a lot of setup and clean up procedures so it is the best choice for larger orders of a few ink colors. Screen printing can be applied to a wide variety of garments, fabrics, and colors.
What Are The Advantages of Digital Printing? There is a much faster turnaround with digital and setup cost is minimal. If you need it in a hurry, digital is your choice. Digital is also ideal for short production runs and complicated designs using lots of different colours.
Can I supply my own garments for you to print on? Yep! Depending on your printing requirements, we're more than happy to print on a garment you've supplied. If you'd like to know more about this whole 'supply your own garment' business, contact us at sales@thetshirtmill.com.au.