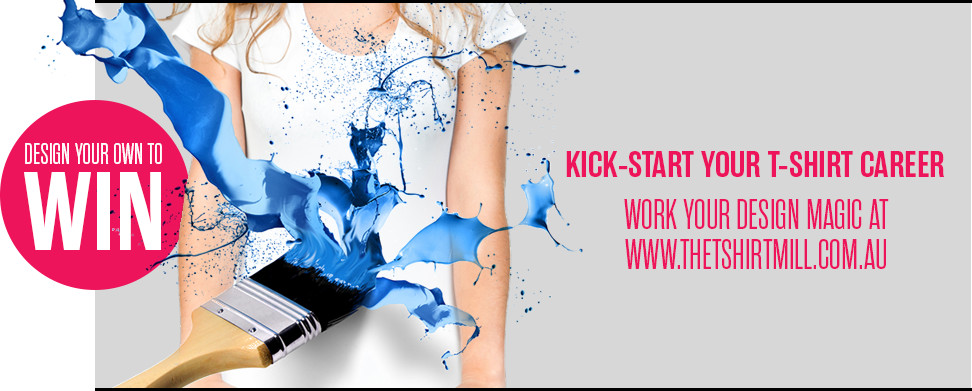 Launch your t-shirt design career with The Tshirt Mill
Always dreamed of a career in t-shirt design? Let us guess…when all the other kids at kindy were saying they wanted to be vets and firemen when they grew up, you said 't-shirt designer', and your teachers exchanged disapproving looks. Well here's your chance to show THEM!
Simply create your unique (and quite frankly, brilliant) t-shirt design on our site then get us to print and send it to you. Once you've got your masterpiece in your sweaty little paws, grab a pic of someone wearing it and upload it to Instagram with @thetshirtmill and #mytshirtmill.
Then at the end of each month, we'll have a staff meeting where we'll eat croissants and most probably melting moments, and choose our favourite original t-shirt design.
Once we've decided who shall be crowed the monthly winner, we'll announce it via megaphone from atop the Sydney Harbour Bridge. Not really, we'll actually announce it across our social media channels which, given our awesome online following, is only marginally less impressive than the megaphone announcement.
Now, online fame and glory aside, your t-shirt will also be available to buy on our website, for a minimum of one month. AND you'll get a percentage of the sales – talk about a kick-start for your t-shirt design career! Take THAT Miss Cheryl.
When creating your shirt, you must us the 'DYO promo tee' as specified on our site. Competition winners are at the discretion of The Tshirt Mill, so better make your design most excellent. Winners will receive 10% commission on sales of their t-shirt for as long as it's on www.tshirtmill.com.au. Tshirt Mill will keep the winning t-shirt on their site for a minimum of one month. After that it's at the discretion of The Tshirt Mill as to when it is removed. Geez, you must be keen to still be reading this.